ReadRunner, from bee3ee, is one of CHEST's Call 3 winners. It helps those who struggle with the challenge of reading by creating a natural and engaging reading environment. This is achieved by embedding texts on a mobile screen (phone or tablet) in a secure, playful and measurable setting – allowing users to read better and regain true pleasure in reading.
During the first 6 months of the project, the ReadRunner team have been working on advanced design, first deployments and testing of their web app, mobile app (iOS and Android) and websites. A co-design process has been used, including key stakeholders such as children, teachers, medical professionals and researchers.
Field studies were started in order to evaluate user experience and collect data, so that the bee3ee team could evaluate and enhance ReadRunner. Further comprehensive field studies are ongoing, as bee3ee work towards the ultimate goal of developing ReadRunner as a cross‐platform, multilingual system. One field study that generated particularly positive results showed ReadRunner scoring highly compared to conventional methods, thus demonstrating ReadRunner's effectiveness as a tool that helps in reading practices by acting like a booster or catalyser; it improves reading because it simply lets you read. Below is a photo of a child using ReadRunner.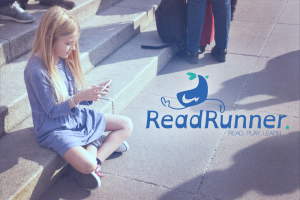 The app (for iOS and Android) was released to a limited number of early users who helped to debug. A reliable and free beta version, with basic features (iOS 7+), optimised for iPhone 4s+ was submitted to the AppStore to be made available for free download. Look out for ReadRunner's next official announcement later this week! ReadRunner can also be used on the iPad, but it is not yet fully customized for this device – look out for a further announcement in March.
It is anticipated that when development is complete, ReadRunner will save teachers and therapists significant time when assessing reading abilities and progress, which will give these professionals more time with their students and patients.
In addition to CHEST funding, ReadRunner has also won a grant from Impact Hub Milan.
To learn more about ReadRunner, you can visit the official websites: http://www.bee3ee.com/ and https://www.thereadrunner.com
There is also a video available on YouTube – "ReadRunner in a minute": https://youtu.be/3r1E-jU75hw
You can also follow ReadRunner on Twitter (@readrunner), and find them on Facebook (/ReadRunner1). Over a 3-month period, ReadRunner's Twitter following increased by 185%, with a 110% increase for Facebook!