Provenance, a CHEST Call 3 winner, is pioneering new software that offers transparency and demonstrates the authenticity of information about products. Provenance enables you to gather and communicate the information about products and easily embed this anywhere on the web; real-time, collaborative and simple. It provides you with an immutable digital history about products and allows you to securely track materials and key attributes on the blockchain.
To see how this works in practice, you can check out the Provenance case study on "how to make a fish transparent". Here, Provenance worked with Jonathan Norris, a premium fishmonger, to prove the journey of their natural smoked haddock, from waters off Cornwall to the customer in London. Using Provenance, Jonathan Norris created a profile and used it to build the simple story behind his fish, then invited the key members of his supply chain to contribute. Provenance helped to prove the chain of custody by creating a digital record that cannot be tampered with – an identity confirmation system and timestamped item registration prototype called a blockchain – an immutable, auditable, decentralised data store. Below are a selection of photos showing how Provenance worked for Jonathan Norris.
A further key result for Provenance is their link up with Lily Cole's Impossible Store through Provenance's e-commerce plugin. This allowed the team at Impossible to trace the origins and histories of products and bring the stories from their supply chains to the point of sale – closing the gap between manufacturer and shopper. This is achieved with just one line of code…
A wide range of product stories have been created on Provenance by the Impossible Shop – all of which can be updated easily through the Provenance platform, by Impossible, the brands and their collaborators. The image below demonstrates how the Provenance plugin works for the Impossible Store.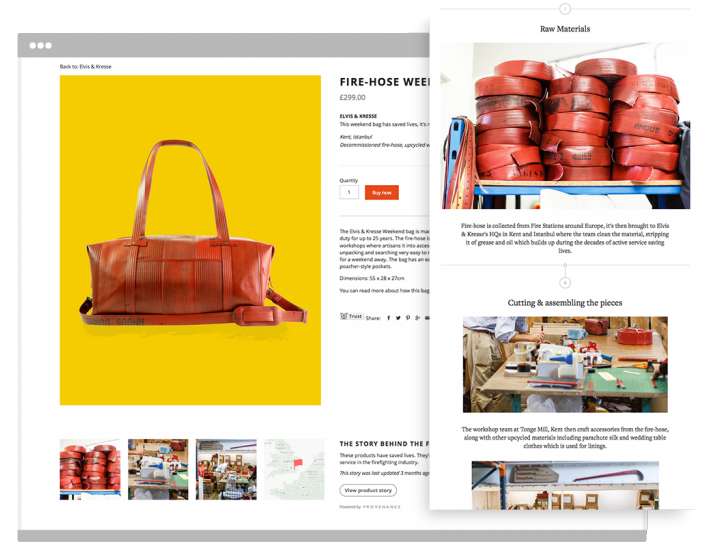 In addition to this, Provenance have released a White Paper, which describes a prototype that uses blockchain technology to enable secure traceability of certifications and other salient information in supply chains. The Decentralized Application (Dapp) proposed in this paper is still in development. Provenance welcomes businesses and standards organisations to join their consortium to collaborate on this new approach. To read the Provenance White Paper, please click here.
To learn more about Provenance, you can visit their official website: https://www.provenance.org/
You can also follow them on Twitter (@ProvenanceHQ) and find them on Facebook (/ProjectProvenance).